General Voting Information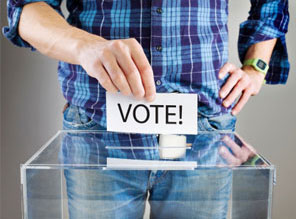 Find Your Polling Place
You can find your polling place online by visiting the Voter Information Portal. Your polling place is also listed on your voter acknowledgement notice that you received from the county election official after registering.
When are Polling Places Open?
Polls are open from 7 a.m. to 7 p.m. local time.
Bring Identification
All voters who appear at a polling place must show proof of identification (SDCL12-18-6.1). Approved forms of photo identification include:
South Dakota driver's license or nondriver ID card
U.S. government photo ID (passport is acceptable)
U.S. Armed Forces ID
Current student photo identification card from a South Dakota high school or South Dakota accredited institution of higher education
Tribal photo ID
If you do not have a photo ID, you can sign a personal identification affidavit, and will still be allowed to vote a regular ballot. (SDAR 5:02:05:25)
If you are voting for the first time and intend to vote by absentee ballot, please visit our absentee voting page.
Am I Registered?
You are not registered to vote until your application has been processed and accepted by your county election official. If accepted, the county election official will send you an acknowledgement Notice. If you do not receive an acknowledgement notice within 15 days of the date you submitted your application, contact your County Election Official.To check if you are registered, visit the voter information portal. If you are not registered to vote, please visit our voter registration page.
Please call (605) 773-3537 or e-mail